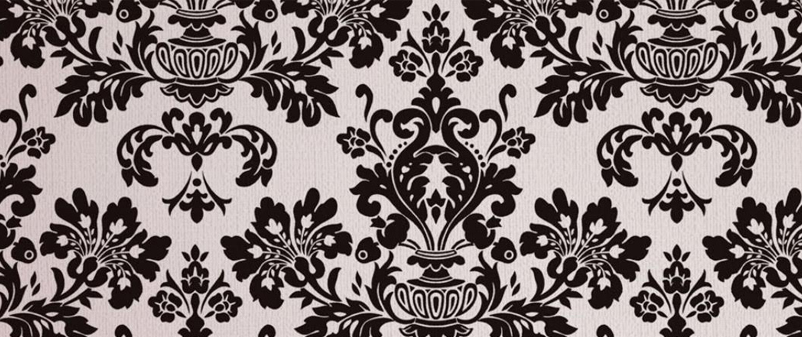 Installation Guides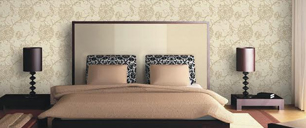 Wall Preparation
There are two reasons to prepare your walls before installing wallpaper. It ensures that your wallpaper will adhere correctly to the wall and it aids future removal. As wallpaper dries, normally over a 24 to 48 hour period, there is a significant amount of pull as the paper contracts. If the wallpaper has not formed a good bond, it will pull away from the wall. Additionally, when the paper is later removed, it may damage the covering of the underlying surface. Proper preparation will ensure the best results from your wallcovering. Any surface you wish to install wallpaper over should be primed with a good quality acrylic primer made specifically for wallpaper.
Hanging Tips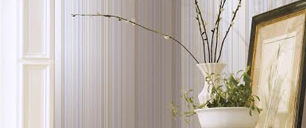 Installing Non-woven Wallpaper
• Ensure walls are correctly prepared and primed. This ensures that wallpaper will adhere correctly to the wall and it aids in future removal.

• Color dark wallpaper's edges with a good quality painting crayon in a matching shade to avoid lighter seams showing once the paper has dried.

• Nonwoven wallpaper should be hung on surfaces of uniform color.

• When light colored wallcoverings are used, be sure that the walls are primed to yield an even white surface.

• For absorbent surfaces use a primer sealer.

• Do not soak adhesive to nonwoven wallpaper in advance. There is no soaking time. Paste one panel/section at a time.

• Paste should not come into contact with the printed side of the wallpaper.

• Remove spots of paste immediately by dabbing them with a damp clean cloth.

• Wallpaper can take two days to a week to completely dry out depending on the type of wallpaper and conditions of the room. While wallpaper is wet, it is very important to take extra care when moving things back into place.

• Use a paperhanging brush for embossed or textured wallpaper. If paperhanging brush is not available, use gentle strokes when using a paleta or smoother.



Cleaning
• Wallpaper should be treated with great care and only wiped lightly with a damp sponge/cloth when urgently needed.

• Dry dust can be wiped off using a dry cloth.

• Remove stains as soon as possible.

• Do not over-wet the wallpaper.

• Do not use abrasive cleaners as they may ruin the wallpaper surface.

• Do not use active solvent based cleaning agents, chemical based ingredients, lacquer thinners and nail polish remover.
Technical Info
Types of wallpaper
Before you purchase wallpaper, you first need to determine the most suitable type for your needs. The room in which the wallpaper will be hung greatly affects which type should be chosen, bathrooms and kitchens for example require different types as opposed to those suitable for living rooms and bedrooms.
Materials
• Non-woven
Quickly becoming the wallpaper of choice due to ease of hanging and removing, non-woven wallpapers are made from a blend of natural & synthetic fibers. This type of wallpaper does not expand when wet like other varieties and therefore does not need to be soaked. Non-woven wallcoverings are easy to hang using the paste-the-wall technique, or the backing may be pasted by hand or pasting machine. Another fantastic benefit of non-woven wallpaper is that it can be removed dry without the need of water and will leave the wall underneath intact.
• Vinyl
Ideal for rooms prone to humidity and damp such as kitchens or bathrooms, vinyl wallpaper is both durable and easily cleanable.
• Paper
A traditional and delicate form of wallpaper, it can tear easily and needs to be soaked prior to hanging to counteract expansion. The hanging and removal process is more complex.
Match
Before hanging wallpaper the match of each design needs to be taken into account, as you may need more rolls to cover each wall.
Straight match

The pattern repeat on adjoining strips must be at the same height.
Drop or Offset match

Trickier to hang than straight or free matches, drop match wallpaper needs to be hung in sequence to create the desired pattern effect. They usually need to be matched up half of the way (half drop) or quarter of the way (quarter drop) down every other strip.
Random or Free match

Wallpaper of this kind has no direct pattern repeat that needs to be perfectly matched per drop, making these types the easiest to hang. These will normally be plain in design or have a textured surface.